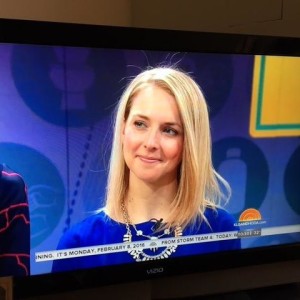 Welcome! I'm a New York City-based health and wellness editor at US News & World Report, where I write consumer advice stories on fitness, nutrition, women's health, mental health, parenting and more. I also work with dozens of outside contributors as manager and editor of the Eat+Run blog. I'm frequently interviewed by local and national radio stations and made my TV debut on the Today Show in February 2016.
I have written for The Washington Post, its weekend magazine and was one of the original columnists at TheMuse.com, where I mostly reported on how business and psychology research can be applied to improve career success. For two and a half years, I served as associate editor of Monitor on Psychology magazine.
I'm a proud graduate of the University of Michigan (Go Blue!) and American University, where I earned my master's degree in interactive journalism in 2014. I've served as a vice chair of the National Press Club's Young Members Committee and as a leader of the Association of Health Care Journalists' D.C. chapter. I'm a former board member of the American News Women's Club and one of 20 journalists awarded a 2016 fellowship to the National Press Foundation and the Mayo Clinic's program on obesity research.  
You can find me rising early to hit the gym or the pool; seeking out a health-, science- or journalism-related panel after work; or staying out too late enjoying beer and good company at a local watering hole. Get in touch at amiller@usnews.com or @AnnaMedaris.